Laboratory consumables
For HPLC/GC/Mass Spec consumables click directly on the Chromatography Direct Logo.
At Chromatography Direct we offer a wide range of HPLC/GC/Mass spec consumables including vials, caps, inserts, syringe filters, canula, micro-plates, centrifuge tubes etc. Please contact us to arrange samples to be sent. Once happy with the product, we will then endeavor to save you money on your purchases.
We also supply D2 and tungsten lamps for all manufacturers HPLC detectors along with all wet-end parts for Gynkotek, Dionex, Thermo and Agilent HPLC equipment at very competitive prices including rotor seals, Needle seat seals, O rings, Pump seals, Washers, Filters, Check valves, Pistons and syringes. If there is anything that we can assist you with, please contact us and we will get right back to you with a quote.
Please contact us if you have any specific requirements.

Name:Gina50/ASI-100 Rotor seal
Model:Gina50/ASI-100
Manufacturer:Gynkotek/Dionex
Price: £89
7010 rotor seal for use with both Gina50 and ASI-100 samplers ... Read more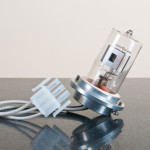 Name:D2 lamp Agilent G1315 Detector
Model:G1315
Manufacturer:Agilent
Price: £425.00